The AIDE project's Tabletop device: development of itsuser interface
Le dispositif Tabletop du projet AIDE : développement de son interface utilisateur.
The work presented here consists in the creation of a playfull and interactive interfacefor a serious game part of the project: Artificial Intelligence Devoted to Education (AIDE). This project aims to help developing computational thinking from tangible and unplugged activity,while studing the human learning mechanisms considering modelinf, based on cognitive neuros-ciences and educationational science1. The learning activity involves a tabletop escape game,collecting learning analytics using electronic components and software tools. The interface is visualized on a screen with a low cost processor. It is implemented as a set of web pages. The game communicates with the interface using a dedicated server, with machine learning algorithms.The interactions between the learner and the game table are filmed and analyzed in real time,to be displayed on the interface, and recorder. The latter is also responsible for transmitting the indications and scripted elements of the game. The creativity, imagination and skills of thelearner are thus measured and evaluated.
Le travail présenté ici consiste en la création d'une interface ludique et interactive pour un serious game qui est une des actions du projet : Artificial Intelligence Devoted to Education}(AIDE). Ce projet a pour but de permettre le développement de la pensée computationnelle (ou pensée informatique) et d'en étudier les mécanismes d'apprentissage par des techniques, ou approches, basés sur les neurosciences cognitives et les sciences de l'éducation. L'expérience d'apprentissage passe par un jeu d'évasion (escape game) sur table utilisant des composants électroniques et des outils issus de la robotique. L'interface est visualisée sur un écran avec un processeur à bas coût. Elle se présente sous forme de pages Web. Le jeu communique avec l'interface en utilisant un serveur local et des techniques d'apprentissage automatique ou apprentissage machine (machine learning). Les interactions entre l'apprenant et la table de jeu sont filmées et analysées en temps réel, pour être affichée au sein de l'interface et enregistrées. Cette dernière est aussi chargée de transmettre les indications et les éléments scénarisés du jeu. La créativité, l'imagination et les compétences de l'apprenant sont ainsi sollicitées et évaluées.
Fichier principal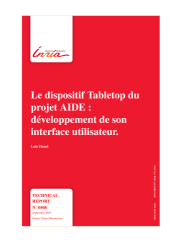 Rapport_technique_stage_M1.pdf (4.28 Mo)
Télécharger le fichier
Rapport technique stage M1.zip (5.45 Mo)
Télécharger le fichier
Origin : Files produced by the author(s)