Be Scalable and Rescue My Slices During Reconfiguration
Modern 5G networks promise more bandwidth ,less delay, and more exibility for an ever increasing number of users and applications, with Software Defined Networking. Network Function Virtualization, and Network Slicing as key enablers. Within that context, effciently provisioning network and cloud resources of a wide variety of applications with dynamic users' demands is a rea lchallenge. In this work, we consider the problem of network slice reconfiguration. Reconfiguring regularly network slices allows to reduce the network operational cost. However, it impacts users' Quality of Service by changing the routing. To solve this issue, we study solution simplementing a make-before-break scheme. We propose new models and scalable algorithms ( relying on column generation techniques) that solve large data instances in few seconds.
Les réseaux 5G modernes promettent plus de bande passante, moins de délai et plus de flexibilité pour un nombre toujours croissant d'utilisateurs et d'applications, avec la programmation logicielle des réseaux (SDN), la virtualisation des fonctions réseau, le découpage du réseau en slices comme facteurs clés de réussite. Dans ce contexte, le provisionnemente efficace des ressources réseau d'une grande variété d'applications avec les demandes des utilisateurs dynamiques est un véritable défi. Dans cet ravail, nous considérons le problème de la reconfiguration des slices réseau. La reconfiguration régulière des slices permet de réduire le coût opérationnel du réseau. Cependant, il a un impact sur le Qualité de service des utilisateurs en modifiant le routage. Pour résoudre ce problème, nous étudions des solutions mettant en oeuvre un schéma de reconfiguration des slices avec une technique make-before-break. Nous proposons de nouveaux modèles et algorithmes s'appuyant sur des techniques de génération de colonnes qui permettent de résoudre de grandes instances du problème en quelques secondes.
Fichier principal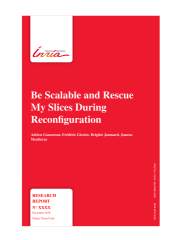 report2019.pdf (2.8 Mo)
Télécharger le fichier
Origin : Files produced by the author(s)