Assessing the Reconstruction of Macro-molecular Assemblies with Toleranced Models
We introduce Toleranced Models (TOM), a generic and versatile framework meant to handle models of macro-molecular assemblies featuring uncertainties on the shapes and the positions of proteins. A TOM being a continuum of nested shapes, the inner (resp. outer) ones representing high (low) confidence regions, we present statistics to assess features of this continuum at multiple scales. While selected statistics target topological aspects (pairwise contacts, complexes involving proteins of prescribed types), others are of geometric nature (geometric accuracy of complexes). We validate the TOM framework on recent average models of the Nuclear Pore Complex (NPC) obtained from reconstruction by data integration, and confront our statistics against experimental findings related to sub-complexes of the NPC. In a broader perspective, the TOM framework should prove instrumental to handle uncertainties of various kind, in particular in electron-microscopy and crystallography.
Ce travail introduit le canevas des modèles tolérancés (TOM), afin de modéliser des assemblages macro-moléculaires présentant des incertitudes tant sur la forme des protéines que sur leur position. Un modèle tolérancé étant un continuum de formes emboîtées, nous présentons une panoplie de statistiques permettant d'évaluer ces formes à diverses échelles. Certaines des statistiques qualifient des aspects topologiques (contacts deux à deux, sous-complexes impliquant certaines protéines spécifiques), alors que d'autres sont de nature géométrique (taille des sous-complexes). Nous validons le canevas en évaluant les modèles moyennés du pore nucléaire (NPC) reconstruits récemment par intégration de données, et confrontons nos statistiques à divers résultats relatifs à des sous-complexes. De façon prospective, le canevas des modèles tolérances devrait permettre de gérer des incertitudes diverses, en particulier en cryo electron microscopie et crystallographie.
Fichier principal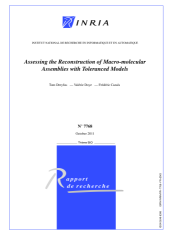 RR-7768.pdf (940.85 Ko)
Télécharger le fichier
Origin : Files produced by the author(s)