LDM: Link Discovery Method for new Resource Integration
In this paper we address the problem of resource discovery in the Linked Open Data cloud (LOD) where data described by different schemas is not always linked. We propose an approach that allows discovery of new links between data. These links can help to match schemas that are conceptually relevant with respect to a given application domain. Furthermore, these links can be exploited during the querying process in order to combine data coming from different sources. In this approach we exploit the semantic knowledge declared in different schemas in order to model: (i) the influences between concept similarities, (ii) the influences between data similarities, and (iii) the influences between data and concept similarities. The similarity scores are computed by an iterative resolution of two non linear equation systems that express the concept similarity computation and the data similarity computation. The proposed approach is illustrated on scientific publication data.
Dans ce papier nous nous intéressons au problème de découverte de resource dans le LOD (Linked Open Data), dans lequel les données décrites conformément à différents schémas ne sont pas toujours liées. Les liens sémantiques entre données peuvent aider à la recherche de correspondances entre schémas. De plus ces liens peuvent être exploités au moment des requêtes pour combiner des données décrites dans différentes sources. Dans cette approche, nous exploitons la sémantique des schémas de façon à modéliser : (1) les influences entre similarités de concept, (2) les influences entre similarités de données. Les scores de similarité sont calculés en résolvant itérativement deux systèmes d'équations représentant le calcul des similarités conceptuelles et le calcul des similarités entre données. L'approche est illustrée en utilisant le domaine des publications scientifiques.
Fichier principal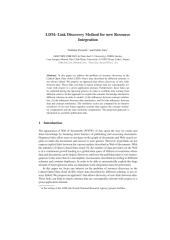 paper10-Pernelle-Sais-RED.pdf (336.24 Ko)
Télécharger le fichier
Origin : Files produced by the author(s)