Identification rapide de familles protéiques par dominance
Structural comparison of proteins is a frequent and important operation in bioinformatics, giving precious information for determining the possible functions of proteins. Unfortunately, the corresponding optimization problems are often NP-Hard. Different analysis approaches exist: Most are based on the superimposition of residue coordinates (like VAST) or on the comparison of internal distances. The objective is to quickly identify and classify similar structures. We used the comparison tool A_purva, which is based on Contact Map Overlap (CMO), to classify protein structure coming from the CATH database. The obtained results show that A_purva was able to correctly classify 92% of the structures, and that introducing the notion of dominance drastically reduces the computational time needed for classifying the protein structures.
La comparaison de stuctures protéiques est une opération fréquente et importante dans le domaine de la bioinformatique. Elle apporte des informations aidant à la détermination des fonctions d'une protéine. Néanmoins, le problème sous-jacent est NP-complet. Différentes approches d'analyse existent: certaines basées sur la superposition de coordonnées (e.g. VAST) et d'autres sur les distances internes conservées dans les structures. L'objectif est donc d'identifier et de classer rapidement des structures similaires. Nous avons classé des structures de la base de données CATH avec un programme nommé A_purva qui utilise l'approche CMO (Conctact Map Overlap). Nous montrons que ce dernier a permis de prédire correctement la classification de 92% des structures soumises et que l'introduction de la notion de dominance a réduit considérablement les temps de classement des protéines.
Fichier principal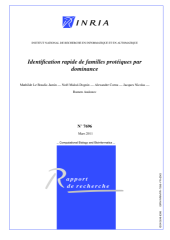 RR-7696.pdf (308.14 Ko)
Télécharger le fichier
Origin : Files produced by the author(s)