Self-coordination of Workflow Execution Through Molecular Composition
With the development of the Internet of Services, composing loosely-coupled, distributed and autonomous services dynamically has become one of the new challenges for large scale computing. While service composition systems are now a key feature of service oriented architectures, they are usually managed by a central coordination node, leading to performance and communication bottlenecks at runtime, as well as reliability issues. Accordingly, workflow executable languages, such as BPEL was designed to support centralized and static coordination of workflows. Thus, it appears crucial to promote service composition systems with a proper support for decentralized and dynamic coordination. Recently, nature metaphors have been shown of interest for inspiring autonomous coordination in service architectures. In this paper, we present a new analogy for service coordination based on molecular composition. Within this analogy, data and services are molecules floating and interacting freely in a chemical solution. The decentralized workflow execution coordination is achieved through a set of reactions between those molecules. In more concrete terms, we express this coordination with HOCL, a chemical higher-order language, in which reaction rules are themselves molecules able to react. These rules are composed, allowing a wide variety of workflow patterns to be executed. We here extend the notion of chemical computing, by proposing an executable chemical language for decentralized workflow execution.
Avec le développement de l'Internet des services, composer des services distribués faiblement couplés dynamiquement est devenu le nouveau challenge du calcul à large échelle. Alors que la composition de services est devenue un élément clef des plates-formes orientées service, les systèmes de composition de services suivent pour la plupart une approche centralisée, entraînant des problèmes à la fois techniques (goulot d'étranglement, tolérance aux pannes) mais aussi sociétaux ou environnementaux (protection de la vie privée, consommation d'énergie...). Conjointement, des langages de description de workflow, tels BPEL, ne peuvent s'exéuter que dans des environnements statiques et centralisés. Il devient important de promouvoir des systèmes de composition de services permettant la coordination de ces services de façon décentralisée et autonome. Récemment, s'inspirer des processus naturels s'est avéré une piste prometteuse pour la coordination de services autonomes. Dans cet article, nous nous appuyons sur une analogie inspirée par la nature basée sur la composition moléculaire. Selon cette analogie, les services sont des molécules qui flottent dans une solution chimique. La coordination de ces services est effectuée par un ensemble de réactions entre ces molécules exprimant l'exécution décentralisée d'un workflow. Nous montrons comment combiner des règles de réactions (les règles étant elles-même des molécules) pour traiter une large variété de schémas de workflow. Dans cette voie, nous proposons une extension de la notion de calcul chimique pour l'exécution décentralisée et dynamique de workflow.
Fichier principal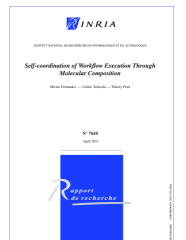 RR-7610.pdf (519.73 Ko)
Télécharger le fichier
Origin : Files produced by the author(s)