Comparing Protein 3D Structures Using A_purva
Structural similarity between proteins provides significant insights about their functions. Maximum Contact Map Overlap maximization (CMO) received sustained attention during the past decade and can be considered today as a credible protein structure measure. We present here A_purva, an exact CMO solver that is both efficient (notably faster than the previous exact algorithms), and reliable (providing accurate upper and lower bounds of the solution). These properties make it applicable for large-scale protein comparison and classification. Availability: http://apurva.genouest.org Contact: support@genouest.org Supplementary information: A_purva's user manual, as well as many examples of protein contact maps can be found on A_purva's web-page.
La similarité structurale entre protéines donne des renseignements importants sur leurs fonctions. La maximisation du recouvrement de cartes de contacts (CMO) a reçu une attention soutenue ces dix dernières années, et est maintenant considérée comme une mesure de similarité crédible. Nous présentons içi A_purva, un solveur de CMO exacte qui est à la fois efficace (plus rapide que les autres algorithmes exactes) et fiable (fournit des bornes supérieures et inférieures précises de la solution). Ces propriétés le rendent applicable pour des comparaisons et des classifications de protéines à grandes échelles. Disponibilité : http://apurva.genouest.org Contact : support@genouest.org Informations supplémentaires : Le manuel utilisateur d'A_purva, ainsi que de nombreux exemples de cartes de contacts de protéines sont disponibles sur le site web d'A_purva.
Fichier principal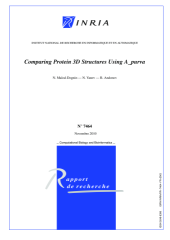 RR-7464.pdf (166.88 Ko)
Télécharger le fichier
Origin : Files produced by the author(s)