Distributed Monitoring for User Accounting in the BlobSeer Distributed Storage System
This paper addresses the problem of using monitoring for keeping track of user activity within a large-scale distributed storage system. We focus on the case of BlobSeer, a system designed to store massive data, while leveraging a large-scale deployment and heavy data-access concurrency. We discuss the useful data that should be collected by the monitoring tools in order to present the user with a detailed and meaningful image of the storage system and of the data inside. We propose a distributed architecture for storing and processing the received data. Moreover, we analyze the types of protocol breaches that are specific to BlobSeer and we propose a mechanism that identifies the malicious users who attempt this kind of attacks. We implement our solution as a new BlobSeer component that does not interfere with its efficient data-access primitives, but instead it builds on the user-activity history to obtain real-time information about the users in the system and possibly block those with malicious intentions.
Ce rapport étudie la possibilité d'utiliser des outils de surveillance pour suivre l'activité des utilisateurs dans le cadre d'un système de stockage de données reparties à grande échelle. Nous nous concentrons sur BlobSeer, un système conçu pour la gestion de très grandes données qui permet un accès très performant aux données. Nous présentons les informations qui peuvent être utilement recueillies par les systèmes de monitoring pour exposer à l'utilisateur une image détaillée du système et des données qui y sont stockées. Nous proposons une architecture distribuée pour stocker et traiter les informations reçues. De plus, nous analysons les types des violations des protocoles d'accès aux données qui sont spécifiques à BlobSeer et nous proposons un mécanisme pour identifier les utilisateurs malveillants qui tentent ce genre d'attaques. Nous avons implémenté notre solution sous la forme d'un nouveau module BlobSeer qui n'interfère pas avec ses primitives efficaces d'accès aux données. Il s'appuie sur l'histoire de l'activité des utilisateurs pour obtenir en temps réel des informations sur eux et éventuellement bloquer les utilisateurs malveillants.
Fichier principal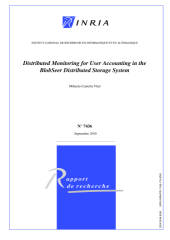 RR-7436.pdf (966.27 Ko)
Télécharger le fichier
Origin : Files produced by the author(s)