A Study of End-User SCSI Disk Performance with Parallel and Non-parallel Files
This report describes a series of experiments to investigate the performance of SCSI disks as seen by the application programmer. The results show a significant performance loss, on the order of 50%, when two or more files are simultaneously read from the same disk. Performance is also reduced when files are stored in an interleaved manner, and when small block sizes are utilized.
Ce rapport décrit une série d'expériences réalisées pour étudier les performances des disques SCSI telles que l'on peut les observer au niveau de l'interface de programmation. Les résultats indiquent une réduction significative des performances, de l'ordre de 50\%, lorsqu'au moins deux fichiers sont lus simultanément à partir du même disque. Les performances sont aussi réduites lorsque des fichiers sont stockés de façon entrelacée et lorsque des blocs de petite taille sont utilisés.
Fichier principal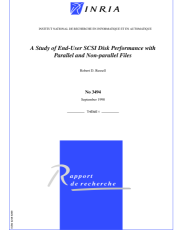 RR-3494.pdf (273.67 Ko)
Télécharger le fichier
RR1998-38.pdf (411.9 Ko)
Télécharger le fichier