BRuIT : Bandwidth Reservation under Interferences Influence
This paper deals with the bandwidth reservation problem in ad hoc networks and with the influence that interferences between signals have on this problem. We show that interferences could decrease the applications rates. This can be a real problem for applications that need guarantees. We propose a distributed protocol (called BRuIT) for bandwidth reservation in ad hoc networks that takes into account the existence of interferences from far transmissions. The protocol is analyzed through simulations carried out under NS: we evaluate the signaling overhead required for maintaining the knowledge of existing interferences ; we show that this knowledge reduces delays in case of congestion ; we measure the time for rebuilding broken routes ; and finally we show that this protocol maintains the rate of accepted applications.
Cet article traite du problème de réservation de bande passante dans les réseaux ad-hoc et de l'influence des interférences hertziennes sur ce problème. Nous montrons que le phénomène d'interférences peut être à l'origine de pertes de bande passante qui peuvent être problématique pour les applications nécessitant des garanties. nous proposons un protocole distribué de réservation de bande passante pour réseaux ad-hoc appelé BRuIT. Ce protocole prend en compte l'existence d'interférences entre transmissions lointaines. Les performances de BRuIT sont analysées au moyen de simulations sous NS.
Fichier principal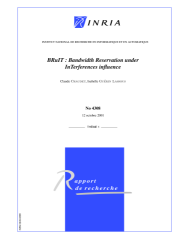 RR-4308.pdf (172.96 Ko)
Télécharger le fichier
RR2001-29.pdf (278.64 Ko)
Télécharger le fichier