FPGA-based Implementation of Multiple PHY Layers of IEEE 802.15.4 Targeting SDR Platform
While SDR platforms become more and more accessible to a large community of researchers with affordable prices, open source FPGA-based implementation of wireless communication systems are still not available. This paper presents an open source FPGA-based design of IEEE 802.15.4 PHY Layers developed in the context of a new SDR testbed named FIT/CorteXlab. We propose a VHDL implementation of the three available options of the IEEE 802.15.4 physical layer parametrized and easily reconfigurable. We have validated our design on Nutaq platform which combines Xilinx Virtex-6 FPGA and tunable Radio420x RF transceiver. A tutorial style approach is adopted to describe the multiple PHY Layers of both the baseband TX and RX IPs of IEEE 802.15.4 standard. More focus is given to the symbol timing/carrier recovery and considerations for FPGA implementation are outlined. The IPs presented here will participate to the building of an open source hardware SDR library similar to GNU radio but targeted to FPGA-based platforms.
Nous présentons une implémentation FPGA opensource de la couche physique du standard IEEE 802.15.4. Cette implémentation est réalisée dans le cadre de l'équipex FIT/CorteXlab, sur une plateforme Nutaq qui contient un FPGA Xilinx Virtex-6 et un front-end radio flexible Radio420x RF.
Fichier principal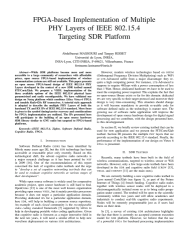 SDR-WinnComm2014-texte.pdf (4.75 Mo)
Télécharger le fichier
Origin : Files produced by the author(s)