Deterministic Partial Replay for MPSoC Debugging
This work reports on a debugging methodology for MPSoC based on deterministic record-replay. It defines a general model of MPSoC, identifies the major sources for non determinism and selects a set of adapted algorithms for the record and replay of non deterministic errors. The contribution of this work the definition of a debugging cycle targeting errors by applying temporal and spatial selection criteria. is the proposal of and . The idea behind spatial and temporal selection is to consider not the entire execution of the whole application but replay a part of the application during a specific execution interval. The proposed mechanisms are connected to GDB and allow a visual representation of the considered part of the trace. The approach has been validated on two execution platforms and two multimedia applications.
Ce rapport présente une méthodologie de débogage pour les systèmes MPSoC basée sur l'enregistrement et la ré-exécution déterministe de traces d'exécution. Ce travail propose un modèle général des systèmes MPSoC, identifie les principales sources de non-déterminisme et propose l'application d'algorithmes adaptés pour l'enregistrement et la ré-exécution d'erreurs non-déterministes. L'originalité du travail réside dans la définition d'un cycle de débogage permettant de cibler la recherche des erreurs en appliquant des critères de sélection spatiale et temporelle. La sélection spatiale consiste à ne considérer qu'une partie de l'application en exécution. La sélection temporelle permet de ne considérer qu'un intervalle spécifique d'exécution. Les mécanismes sont connectées à l'outil de débogage standard GDB tout en fournissant une représentation visuelle de la portion de trace considérée. L'approche est validée sur deux types de plateformes et avec deux applications multimédia.
Fichier principal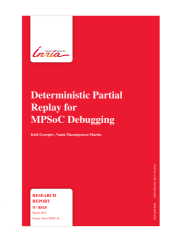 RR_8515.pdf (1.14 Mo)
Télécharger le fichier
Origin : Files produced by the author(s)