Analyse de référents de l'activité de co-design dans un contexte de Réalité Mixte
This paper focuses on referents used in co-design in a Mixed Reality context. A co-design device was installed inside a space to be redesigned, thus offering at once real and virtual representations of the space. Our goal is to understand how the real and virtual representations are used as resource in multidisciplinary co-design. An analysis of pointing gestures done by participants was conducted. Our results underscore complementarities at first between the real and the virtual, as design elements are matches to markers in the real space. Then virtual representations are mostly used to support the design and the construct of a common ground, highlighting the ability of the virtual representations to support design.
Cette étude porte sur l'analyse de référents de l'activité de co-design dans un contexte de réalité mixte à travers l'utilisation d'un dispositif de co-design installé au sein même de l'espace à concevoir ; le contexte de design offrant des représentations réelles et virtuelles du même espace à concevoir. Notre objectif de recherche est de comprendre comment ces deux représentations réelles et virtuelles sont utilisées comme ressources à des fins de co-design dans un cadre multidisciplinaire. Pour ce faire, une analyse des gestes de pointage effectués par les participants a été conduite. Nos résultats soulignent une complémentarité du virtuel et réel en début de processus pour soutenir le travail de co-design et la mise en relation des éléments de design avec des repères réels. Ensuite, les représentations virtuelles sont majoritairement utilisées pour soutenir le design et la construction d'un common ground ce qui met en exergue les représentations virtuelles immersives de cette étude comme suffisantes pour concevoir.
Fichier principal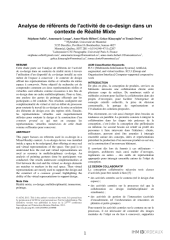 1-4.pdf (631.3 Ko)
Télécharger le fichier
Origin : Publisher files allowed on an open archive