Extraction de façades utilisant la stéréoscopie par corrélation sur des images aériennes transformées
We present in this paper a new approach for building extraction from aerial images. This approach is composed of two parallel processes: the first one deals with horizontal surfaces (ground and roofs) and the second one with vertical surfaces (facades). Both processes use a standard stereo by correlation algorithm: the first one on a rectified pair of images, the second on a rectified and transformed pair. The transformation we use corrects the vertical surfaces to give them the same aspect on both images. The first results show a good localisation of facades.
Nous présentons dans cet article une nouvelle méthodologie qui nous permet de prendre en compte les informations introduites par les façades de bâtiments. Ces surfaces correspondent à des zones très fortement distordues des images et sont diffciles à mettre en correspondance entre les images. Nous proposons ici l'application d'une transformation, le "redressement des façades", à chacune des images initiales. Dans chacune des nouvelles images construites, nous pouvons mettre en correspondance les façades par un algorithme de corrélation et reconstruire ensuite le bâtiment complet. Nous présentons les fondements de cette nouvelle méthodologie permettant de construire des images dans lesquelles les façades sont toutes perçues de manière identique. La seule hypothèse réalisée sur la nature de ces surfaces est leur verticalité. Nous présentons tout d'abord l'approche bidimensionnelle (dans une courbe épipolaire) du problème puis son extension tridimensionnelle. Tout au long de l'étude, les images reconstruites, ou "redressées", sont présentées. Nous finissons l'étude du concept présenté en montrant quelques résultats de reconstructions.
Fichier principal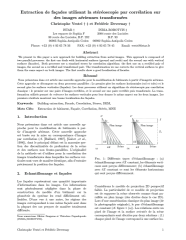 vestri-devernay_99.pdf (547.84 Ko)
Télécharger le fichier
vestri-devernay_99b.pdf (1.38 Mo)
Télécharger le fichier
Origin : Files produced by the author(s)