Physical parameters for piano modeling
This document lists the physical parameters used by the authors when performing numerical simulations of the piano. We first give the parameters used for the soundboard and the air. Then, the hammer parameters are given. Finally, strings parameters are issued and two cases are considered : with (realistic) or without (virtual) wrapped strings. When the strings are considered wrapped, their length is the effective length measured on the reference piano, but we consider that they are made of a virtual material with a higher density. When the strings are considered unwrapped, the material is steel, and to achieve the very bass notes without increasing inharmonicity too much, we have increased the length up to almost 6 meters.
Ce document précise les paramètres physiques utilisés par les auteurs lors des simulations numériques du piano. Nous commençons par donner les paramètres de la table d'harmonie et de l'air. Ensuite, les paramètres des marteaux sont listés. Enfin, nous nous intéressons aux paramètres de cordes, et nous avons considéré deux cas : avec ou sans cordes filées. Dans le cas de cordes filées, les longueurs de cordes sont celles que nous avons mesurées sur le piano de référence, mais nous les considérons composées d'un matériau virtuel très dense. Dans le cas de cordes non filées, nous considérons qu'elles sont faites d'acier, et pour atteindre les notes les plus graves du clavier sans trop accroitre l'inharmonicité, les longueurs des cordes sont augmentées jusqu'à presque 6 mètres.
Fichier principal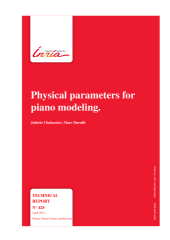 RT-425.pdf (23.94 Mo)
Télécharger le fichier
Origin : Files produced by the author(s)