Hardware Resource Control in L4 micro-kernels
In traditionnal operating systems, application programs are granted direct access to APIs provided by hardware device drivers. This architecture is likely to yield a poor quality of service, or is even vulnerable to denial-of-service attacks on the device itself. For instance, a malicious process issuing lots of disk requests targetting nearby blocks could prevent other processes from getting any access to their data. The micro-kernel architecture, on the other hand, provides strong isolation between components, as all communication goes through IPC. The objective of our work is to leverage this communication layer in order to transparently intercept all requests before they reach the actual drivers. This would enable the system to monitor how much pressure each program puts on each resource, in order to balance, filter, or reschedule these requests. This would make it impossible for malicious programs to abuse hardware resources, while requiring no change in the code of the driver nor in the application.
Dans les systèmes d'exploitation classiques, les processus utilisateurs ont un accès direct aux méthodes des pilotes de périphériques matériels. Cet accès direct peut être exploité afin de forcer un déni de service sur le périphérique concerné ou diminuer fortement la qualité du service fourni. Par exemple, un processus malveillant demandant des accès intensifs au disque sur des blocs très proches empêchera d'autres processus d'accéder à cette ressource. L'isolation forte inhérente aux micro-noyaux canalise les communications entre processus via IPC. L'objectif de notre travail est de profiter de cette couche de communication pour intercepter les appels aux périphériques et permettre un contrôle d'admission ou un réordonnancement des demandes aux périphériques. Ceci pourrait empêcher des processus malveillants de forcer un déni de service sur un composant matériel via l'inaccessibilité du pilote correspondant, en forçant un partage équitable du temps d'accès au pilote.
Fichier principal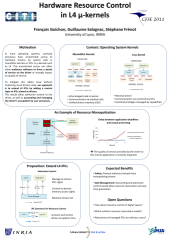 GSF-cfse11-poster.pdf (348.45 Ko)
Télécharger le fichier
Origin : Files produced by the author(s)