Xcast6 Treemap Islands - A Mixed Model of Application and Network Layer Multicast
IP multicast is a protocol that deals with group communications with the aim of reducing traffic redundancy in the network. However, due to difficulty in deployment and poor scalability with a large number of multicast groups, IP multicast is still not widely deployed and used on the Internet. Recently, Xcast6 and Xcast6 Treemap, the two network layer multicast protocols, have been proposed with complementary scaling properties to IP multicast: they support a very large number of active multicast sessions. However, the key limitation of these protocols is that they only support small multicast group. In this paper, we propose Xcast6 Treemap island - a hybrid model of Application Layer Multicast (ALM) and Xcast6 that can work for large multicast group. Our model has several key advantages: ease of deployment, efficiency in bandwidth savings, no control message between end-host and router, zero multicast forwarding state at router and no need for a multicast address allocation protocol. In addition, this model is a potential service from which an ISP can get new revenue. Finally, in simulation section, we have made a comparison with IP multicast and NICE protocol to show the feasibility of our new model.
Le multicast a été inventé pour gérer les communications de groupes tout en réduisant la charge de trafic redondant sur le réseau. Actuellement, le multicast n'est pas largement déployé et utilisé sur l'Internet, principalement en raison des problèmes de passage à l'échelle avec un grand nombre de groupes. Récemment, Xcast6 et Xcast6 Treemap, ont été proposés pour pallier à ce problème: ces deux protocoles peuvent gérer un très grand nombre de groupes actifs. Toutefois, la principale restriction de ces protocoles est qu'ils ne fonctionnent qu'avec des groupes de très petite taille (avec peu de membres). Dans ce papier, nous proposons Xcast6 Treemap Island- un modèle hybride entre Application Layer Multicast (ALM) et Xcast6 qui peuvent gérer des groupes de grande taille. Les avantages principaux de noetr modèles sont les suivants : facilité de déploiement, utilisation efficace de la bande-passante, suppression des messages de contrôle et aucune nécessité d'un protocole d'allocation d'adresses multicast. Nous montrons la faisabilité et l'efficacité de notre proposition par des simulations où nous comparons notre proposition, un protocole IP multicast traditionnel, et le protocole NICE pour ALM.
Fichier principal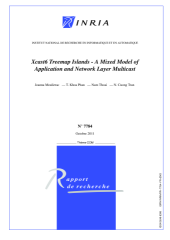 RR-7784.pdf (955.36 Ko)
Télécharger le fichier
Origin : Publisher files allowed on an open archive