Anti-sparse coding for approximate nearest neighbor search
This paper proposes a binarization scheme for vectors of high dimension based on the recent concept of anti-sparse coding, and shows its excellent performance for approximate nearest neighbor search. Unlike other binarization schemes, this framework allows, up to a scaling factor, the explicit reconstruction from the binary representation of the original vector. The paper also shows that random projections which are used in Locality Sensitive Hashing algorithms, are significantly outperformed by regular frames for both synthetic and real data if the number of bits exceeds the vector dimensionality, i.e., when high precision is required.
Cet article proposes une technique de binarisation qui s'appuie sur le concept récent de codage anti-parcimonieux, et montre ses excellentes performances dans un contexte de recherche approximative de plus proches voisins. Contrairement aux méthodes concurrentes, le cadre proposé permet, à un facteur d'échelle près, la reconstruction explicite du vecteur encodé à partir de sa représentation binaire. L'article montre également que les projections aléatoires qui sont communément utilisées dans les méthodes de hachage multi-dimensionnel peuvent être avantageusement remplacées par des frames régulières lorsque le nombre de bits excède la dimension originale du descripteur.
Fichier principal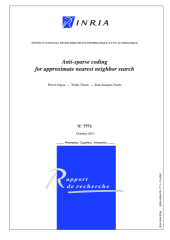 RR-7771.pdf (217.89 Ko)
Télécharger le fichier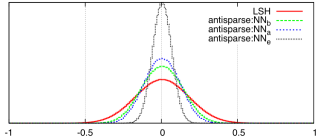 antisparse.png (54.43 Ko)
Télécharger le fichier
Origin : Files produced by the author(s)