Anisotropic Delaunay Mesh Generation
Anisotropic meshes are triangulations of a given domain in the plane or in higher dimensions, with elements elongated along prescribed directions. Anisotropic triangulations are known to be well suited for interpolation of functions or solving PDEs. Assuming that the anisotropic shape requirements for mesh elements are given through a metric field varying over the domain, we propose a new approach to anisotropic mesh generation, relying on the notion of anisotropic Delaunay meshes. An anisotropic Delaunay mesh is defined as a mesh in which the star of each vertex v$consists of simplices that are Delaunay for the metric associated to vertex v. This definition works in any dimension and allows to define a simple refinement algorithm. The algorithm takes as input a domain and a metric field and provides, after completion, an anisotropic mesh whose elements are shaped according to the metric field.
Les maillages anisotropes sont des triangulations d'un domaine donné du plan ou d'un espace de plus grande dimension dont les éléments sont étirés selon des directions prescrites. Les maillages anisotropes sont utiles pour interpoler des fonctions ou résoudre des EDP. Dans cet article, nous supposons que l'anisotropie est prescrite par un champ de métrique défini sur le domaine à mailler. Nous proposons une nouvelle approche de génération de maillages anisotropes qui s'appuie sur la notion de maillage de Delaunay anisotrope. Un tel maillage est défini comme un maillage dont l'étoile de chaque sommet v est formée de simplexes qui sont de Delaunay pour la métrique de v. Cette définition est valide en toutes dimensions et un tel maillage peut être construit par un algorithme simple de raffinement.
Fichier principal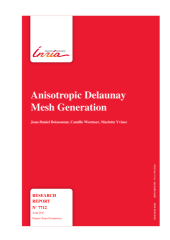 RR-7712-V2.pdf (1.23 Mo)
Télécharger le fichier
Origin : Files produced by the author(s)