Incremental displacement-correction schemes for incompressible fluid-structure interaction: stability and convergence analysis
In this paper we introduce a class of incremental displacement-correction schemes for the explicit coupling of a thin-structure with an incompressible fluid. These methods enforce a specific Robin-Neumann explicit treatment of the interface coupling. We provide a general stability and convergence analysis that covers both the incremental and the non-incremental variants. Their stability properties are independent of the added-mass effect. The superior accuracy of the incremental schemes (with respect to the original non-incremental variant) is highlighted by the error estimates, and then confirmed in a benchmark by numerical experiments.
Dans cet article nous introduisons une classe de schémas avec correction de déplacement incr émentale pour le couplage explicite d'une structure mince et d'un fuide incompressible. Ces méthodes imposent un traitement spécifique Robin-Neumann explicite du couplage à l'interface. Nous proposons une analyse générale de stabilit é et de convergence, qui traite à la fois les variantes incr émentales et non-incr émentale. Leurs propri étés de stabilit é sont indépendants de l'e ffet de masse ajout ée. La précision supérieure des sch emas incrémentaux (par rapport à la variante originale non-incr émentale) est mise en évidence par des estimations d'erreur a priori, puis con firm ée par des exp ériences num eriques dans un cas test connu.
Fichier principal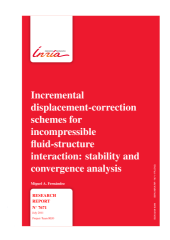 RR-7671.pdf (1.68 Mo)
Télécharger le fichier
Origin : Files produced by the author(s)