Mixed-State CONDENSATION pour suivi et ré-identification simultanés dans des réseaux de caméras à champs de vue disjoints
This article presents a novel approach to person tracking within large-scale environments monitored by nonoverlapping field-of-view camera networks. We address the image-based tracking problem with distributed particle filters using a hierarchical color model. The novelty of our approach resides in the embedding of an already-seenpeople database in the particle filter framework. Doing so, the filter performs not only image position estimation but also does establish identity probabilities for the current targets in the network. Thus we use online person re-identification as a way to introduce continuity to track people in disjoint camera networks. No calibration stage is required. We demonstrate the performances of our approach on a network of 5 disjoint cameras and a 16-person database.
Cet article présente une nouvelle approche pour le suivi de personnes par réseau de caméras à champs de vue disjoints. Le problème du suivi dans l'image est traité par des filtres à particules distribués utilisant un modèle de couleurs hiérarchiques. La nouveauté de notre approche réside dans l'insertion d'une base de personnes déjà rencontrées dans le réseau, dans le formalisme du filtre à particule. Ce faisant, les filtres ne réalisent plus seulement une estimation de position dans l'image mais aussi établissent une identité potentielle pour les cibles, relativement à la base de personnes. Ainsi nous envisageons la ré-identification en ligne de personnes pour introduire de la continuité et pouvoir suivre les cibles dans un réseau à champs de vue disjoints. Aucune calibration n'est requise. Nous évaluons notre approche sur un réseau de 5 caméras à champs de vue disjoints et un ensemble de 16 personnes.
Fichier principal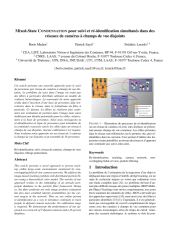 paper13.pdf (902.51 Ko)
Télécharger le fichier
Origin : Files produced by the author(s)