Analyse locale de la forme 3D pour la reconnaissance d'expressions faciales
In this paper we propose a novel approach for indentityindependent 3D facial expression recognition. Our approach is based on shape analysis of local patches extracted from 3D facial shape model. A Riemannian framework is applied to compute geodesic distances between correspondent patches belonging to different faces of the BU-3DFE database and conveying different expressions. Quantitative measures of similarity are obtained and then used as inputs to several classification methods. Using Multiboosting and Support Vector Machines (SVM) classifiers, we achieved average recognition rates respectively equal to 98.81% and 97.75%.
Dans cet article, nous proposons une nouvelle approche pour la reconnaissance d'expressions faciales 3D invariante par rapport à l'identité. Cette approche est basée sur l'analyse de formes de " patches "locaux extraits à partir de modèles de visages 3D. Un cadre Riemannien est utilisé pour le calcul de distances géodésiques entre les patches correspondants appartenant a des visages différents sous différentes expressions. Des mesures quantitatives de similarité sont alors obtenues et sont utilisées comme des paramètres d'entrée pour des algorithmes de classification multiclasses. En utilisant des techniques de Multiboosting et de Machines à Vecteurs de Support (SVM), les taux de reconnaissance des six expressions de base obtenus sur la base BU-3DFE sont respectivement 98.81% et 97.75%.
Fichier principal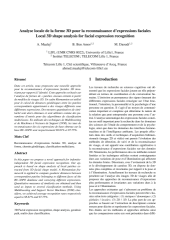 paper26.pdf (3.57 Mo)
Télécharger le fichier
Origin : Files produced by the author(s)