Application du Scanning From Heating à la numérisation 3D de surfaces métalliques spéculaires
Because of the difficulty of dealing with specularity of several surfaces, few methods have been proposed to measure three-dimensional shapes of specular metallic objects. In this paper we present an application on this kind of material of an approach called "Scanning From Heating". This approach has been developed initially for 3D reconstruction of transparent objects. This article presents an application of the working principle of SFH method on material with high thermal conductivity and low absorptivity.
En raison des difficultés liées à la réflexion spéculaire de certaines surfaces, peu de méthodes répétables ont été proposées pour mesurer la forme en trois dimensions des objets métalliques. Dans cet article, nous présentons une application sur ce type de matériau par une nouvelle approche appelée " Scanning From Heating ". Cette méthode a été initialement développée pour la numérisation 3D d'objets transparents. Nous exposons dans cet article comment le principe de fonctionnement de la méthode SFH peut être adapté sur les matériaux de haute conductivité thermique et de faible absorptivité.
Fichier principal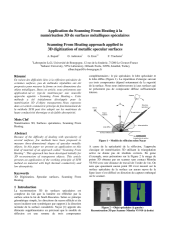 paper33.pdf (437.09 Ko)
Télécharger le fichier
Origin : Files produced by the author(s)