Time-Independent Trace Acquisition Framework -- A Grid'5000 How-to
This manual describes step-by-step how to create a Grid'5000 appliance that comprises all the tools needed to acquire time-independent traces of the execution of an MPI application. Time-independent traces are an original way to estimate the performance of parallel applications. It allows to totally decouple the acquisition of a trace from its replay in a simulation framework. This manual also details the different acquisition scenarios allowed by this approach. Traces can be acquired in a very classical way, by folding the execution on less resources, or by scattering the execution across multiple clusters.
Ce manuel décrit pas à pas la création d'une image système pour Griud'5000 comprenant tous les outils nécessaires à l'acquisition de traces de l'exécution d'une application MPI qui sont indépendantes du temps. L'utilisation de telles traces est une approche originale pour estimer les performances d'applications parallèles. Cela permet de découpler entièrement l'acquisition d'une trace de son rejeu dans un environnement de simulation. Ce manuel décrit également les différents scénarios d'acquisition rendus possibles par cette approche. Les traces peuvent être obtenues de façon classique, en repliant l'exécution sur moins de ressources, ou encore en répartissant l'exécution sur plusieurs grappes de machines.
Fichier principal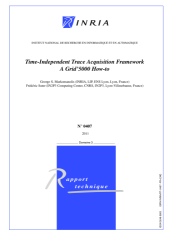 RR-0407.pdf (262.27 Ko)
Télécharger le fichier
Origin : Files produced by the author(s)