Node coloring for dense wireless sensor networks
Coloring is used in wireless networks to improve communication efficiency, mainly in terms of bandwidth, energy and possibly end-to-end delays. In this research report, we define the h-hop node coloring problem, with h any positive integer. We prove that the associated decision problem is NP-complete. We then present a 3-hop distributed coloring algorithm that is optimized for dense networks: a node does not need to exchange the priorities and colors of its 2-hop neighbors. Through simulation results, we highlight the impact of priority assignment on the number of colors obtained for any network. We then focus on grids and identify a color pattern that can be reproduced to color the whole grid. We show how the coloring algorithm can use regularity properties to obtain a periodic color pattern with the optimal number of colors. We then consider grids with holes and study how to extend our results.
Le coloriage est utilisée dans les réseaux sans fil pour améliorer l'efficacité des communications, principalement en termes de bande passante, énergie et éventuellement délais de bout-en-bout. Dans ce rapport de recherche, nous définissons le problème de coloriage des noeuds à h sauts, avec h entier positif quelconque. Nous prouvons que le problème de décision associé est NP-complet. Nous présentons un algorithme de coloriage à 3 sauts distribué qui est optimisé pour des réseaux denses: un noeud ne doit plus échanger les couleurs et priorités de ses voisins à 2 sauts. Nous mettons en évidence à travers des résultats de simulation, l'impact de l'assignation de priorité sur le nombre de couleurs obtenu pour un réseau quelconque. Nous nous intéressons ensuite aux réseaux en grille et identifions un motif colorié pouvant être reproduit pour colorier entièrement la grille. Nous montrons comment l'algorithme de coloriage peut utiliser les propriétés de régularité pour obtenir un motif périodique avec le nombre optimal de couleurs. Nous considérons ensuite des grilles avec trous et étudions comment étendre nos résultats.
Fichier principal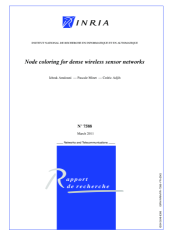 RR-7588.pdf (429.99 Ko)
Télécharger le fichier
Origin : Files produced by the author(s)