Authentication planning for XOR network coding
This paper formulates the authentication planning problem when network coding is implemented in a wireless sensor network. The planning problem aims at minimizing the energy consumed by the security application which is guarantied using message authentication codes. This paper proposes a binary non-linear optimization formulation for this planning problem whose decision variables are the authentication decision of the nodes and the MAC modes of operation. It is illustrated for a butterfly topology. Results show that there is a real trade-off between energy efficiency and message throughput in this context.
Les réseaux sans-fil sont particulièrement vulnérables aux attaques par pollution dans lesquelles un attaquant externe est capable d'envoyer ces propres messages sur le réseau. Pour pouvoir détecter de telles attaques à la destination, un code d'authentification (MAC: Message Authentication Code en anglais) est rajouté à chaque paquet. Un noeud intermédiaire peut vérifier la validité d'un paquet de façon à limiter la portée de transmission d'un paquet pollué dans le réseau. Dans le cadre d'un réseau fortement contraint en énergie tel qu'un réseau de capteurs, le problème du déploiement d'une stratégie de sécurisation du réseau par MAC se pose. En effet, la consommation énergétique du réseau sera fortement influencée d'une part par le type de MAC utilisé dans le réseau et d'autre part par le choix des relais du réseau qui vérifieront le code des paquets avant de les retransmettre. Nous nous intéressons plus particulièrement au cas où le réseau de capteurs utilise une transmission par codage réseau de par sa plus grande vulnérabilité aux attaques par pollution. Ce type de réseau nécessite l'emploi de MAC dédiés (linéaires). Dans ces travaux, nous proposons une formulation combinatoire du problème de planification de la sécurité. Dans cette formulation, nous minimisons l'énergie totale consommée par le réseau sécurisé pour la transmission d'un paquet par source dans le réseau. Les variables sont les décisions d'authentification binaires des noeuds. Nous illustrons ce modèle pour un réseau papillon pour lequel différentes distributions des probabilités d'attaque sur les liens sont considérées.
Fichier principal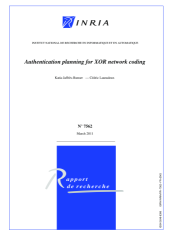 RR-7562.pdf (222.56 Ko)
Télécharger le fichier
Origin : Files produced by the author(s)