An MDE Approach for Automatic Code Generation from MARTE to OpenCL
Advanced engineering and scientific communities have used parallel programming to solve their large scale complex problems. Achieving high performance is the main advantage for this choice. However, as parallel programming requires a non-trivial distribution of tasks and data, developers find it hard to implement their applications effectively. Thus, in order to reduce design complexity, we propose an approach to generate code for OpenCL API, an open standard for parallel programming of heterogeneous systems. This approach is based on Model Driven Engineering (MDE) and Modeling and Analysis of Real-Time and Embedded Systems (MARTE) standard proposed by Object Management Group (OMG). The aim is to provide resources to non-specialist in parallel programming to implement their applications. Moreover, concepts like reuse and platform independence are present. Since we have designed an application and execution platform architecture, we can reuse the same project to add more functionalities and/or change the target architecture. Consequently, this approach helps industries to achieve their time-to-market constraints. The resulting code, for the host and compute devices, are compilable source files that satisfy the specifications defined on design time.
L'ingénierie avancée et les communautés scientifiques utilisent souvent la programmation parallèle pour résoudre leurs problèmes complexes de grande envergure. Atteindre la haute performance est le principal avantage de ce choix. Toutefois, comme la programmation parallèle nécessite une distribution non-trivial de tâches et de données, les développeurs ont du mal à mettre en œuvre leurs applications de manière efficace. Ainsi, afin de réduire la complexité de conception, nous proposons une approche pour générer du code pour la API OpenCL, un standard ouvert pour la programmation parallèle de systèmes hétérogènes. Cette approche est basée sur Ingénierie Dirigée par les Modèles (IDM) et de Modeling and Analysis of Real-Time and Embedded Systems (MARTE) norme proposée par l'Object Management Group (OMG). L'objectif est de fournir des ressources pour les non-spécialistes de la programmation parallèle pour dévéloper leurs applications. En outre, des concepts tels que la réutilisation et l'indépendance de plateforme sont présents. Ainsi, une fois que nous avons conçu une application et architecture de la plateforme d'exécution, nous pouvons réutiliser le même projet pour ajouter plus de fonctionnalités et/ou de modifier l'architecture cible. Par conséquent, cette approche aide les industries à atteindre leurs contraintes de time-to-market. Le code résultant, pour l'hôte et les unités de calcul, sont des fichiers source compilable qui satisfont aux spécifications définies dans la conception.
Fichier principal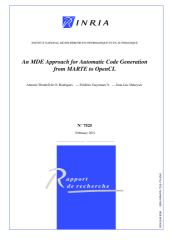 RR-7525.pdf (662.62 Ko)
Télécharger le fichier
Origin : Files produced by the author(s)