Svalabard: Une table à dessin virtuelle pour la modélisation 3D
This paper introduces a perspective sketching interface for creative 3D modeling: Svalabard. To close the gap between designers' abilities and 3D modeling tools, our proposal is a freehand sketching tool, metaphor of a drawing desk. Interactions and tools take advantage of designers work habits (multilayer drawing, association of interactions with input devices). Svalabard includes background drawing filters, developed from a user study in the architectural domain. Those filters detect the current drawing context in real-time to adapt the interface and clean the sketch. Finally, the result of the filters is a structured representation of drawn 3D volumes.
Cet article présente une interface de dessin en perspective pour la modélisation 3D créative : Svalabard. Partant du constat d'inadéquation entre le savoir-faire des créateurs et les outils actuels, nous proposons un système de dessin libre, métaphore d'une table à dessin. L'interaction et les outils proposés sont dérivés des habitudes de travail des concepteurs (dessin multi calques, association des interactions avec des périphériques spécifiques). Svalabard intègre en particulier des filtres d'analyse sous-jacents, issus d'une étude utilisateur dans le domaine architectu- ral. Ils permettent de détecter en temps réel le contexte courant du dessin afin d'adapter l'interaction et d'épurer le dessin. Ils produisent finalement une représentation structurée des volumes 3D dessinés.
Fichier principal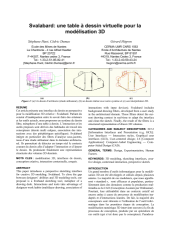 Svalabard-IHM2004.pdf (1.51 Mo)
Télécharger le fichier
Origin : Files produced by the author(s)