Flexibilité et modularité pour la conception d'interactions: Le modèle d'architecture logicielle des Graphes Combinés
This paper presents the Mixed Graphs software architecture of the MAGGLITE post-WIMP toolkit. This model extends and refines the scene graph architecture by describing interactions with another structure: interaction graphs. Graphs are dynamically combined at runtime, thanks to specific communication components named Interaction Access Points. This adaptable and modular approach for describing interactive graphics is gainful for prototyping, implementing and using alternative input devices and/or interaction techniques.
Cet article présente le modèle d'architecture logicielle des Graphes Combinés qui a servi de base à l'implémentation de la boîte à outils post-WIMP MAGGLITE. Ce modèle étend et affine l'architecture graphique des graphes de scène en décrivant l'interaction séparément avec des graphes d'interaction. Les graphes sont combinés dynamiquement à l'exécution de l'application, grâce à des modules de communication spécifiques : les Points d'Accès aux Interactions. Il s'en suit une description flexible et modulaire des graphismes et des interactions, avantageuse du point de vue du prototypage, de l'implémentation et de l'utilisation de périphériques d'entrée et de techniques d'interaction non standard.
Fichier principal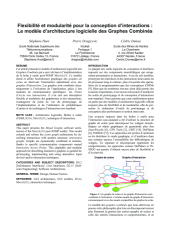 MixedGraphs-IHM2006.pdf (2.21 Mo)
Télécharger le fichier
Origin : Files produced by the author(s)