Timely Data Delivery in a Realistic Bus Network
WiFi-enabled buses and stops may form the backbone of a metropolitan delay tolerant network, that exploits nearby communications, temporary storage at stops, and predictable bus mobility to deliver non-real time information. This paper studies the problem of how to route data from its source to its destination in order to maximize the delivery probability by a given deadline. We assume to know the bus schedule, but we take into account that randomness, due to road traffic conditions or passengers boarding and alighting, affects bus mobility. In this sense, this paper is one of the first to tackle quasi-deterministic mobility scenarios. We propose a simple stochastic model for bus arrivals at stops, supported by a study of real-life traces collected in a large urban network with 250 bus lines and about 7500 bus-stops. A succinct graph representation of this model allows us to devise an optimal (under our model) single-copy routing algorithm and then extend it to cases where several copies of the same data are permitted. Through an extensive simulation study, we compare the optimal routing algorithm with three other approaches: minimizing the expected traversal time over our graph, maximizing the delivery probability over an infinite time-horizon, and a recently-proposed heuristic based on bus frequencies. We show that, in general, our optimal algorithm outperforms the three, but it essentially reduces to either minimizing the expected traversal time when transmissions are always successful, or maximizing the delivery probability over an infinite time-horizon when transmissions fail frequently. For reliable transmissions and "reasonable" values of deadlines, the multi-copy extension requires only 10 copies to reach almost the performance of costly flooding approaches.
Bus et arrêts avec capacités de transmission WiFi peuvent constituer l'épine dorsale d'un réseau urbain tolérant aux délais, qui exploite les transmissions à courte portée, le stockage temporaire des données aux arrêts, et la mobilité prévisible de bus pour délivrer des informations non en temps réel. Cet article étudie le problème de savoir comment router les données à partir de la source jusqu'à la destination afin de maximiser la probabilité de livraison dans un délai donné. Nous supposons que nous connaissons les horaires de bus, mais nous prenons en compte le caractère aléatoire de la mobilité des bus, dû aux conditions de circulation ou au temps nécessaire pour l'embarquement et le débarquement des passagers. En ce sens, le présent document est l'un des premiers à aborder un scénario de mobilité quasi-déterministe. Nous proposons un modèle stochastique simple pour les arrivées de bus aux arrêts, motivé par une étude des traces réelles recueillies dans un vaste réseau urbain avec 250 lignes de bus et environ 7500 arrêts de bus. Une représentation graphique succincte de ce modèle nous permet de concevoir un algorithme de routage optimal (conformément à notre modèle) utilisant une seule copie des données, puis de l'étendre au cas où plusieurs copies des mêmes données sont permises. Grâce à une vaste étude de simulation, nous comparons l'algorithme de routage optimal avec trois autres approches : minimiser le temps attendu de traversement du graphe, maximiser la probabilité de livraison sur un horizon temporel infini, et un algorithme heuristique récemment proposé basé sur les fréquences de bus. Nous montrons que, en général, notre algorithme optimal surpasse les trois autres, mais il se réduit essentiellement à minimiser le temps de traversement quand les transmissions sont toujours couronnées de succès, ou à maximiser la probabilité de livraison sur un horizon temporel infini lorsque les transmissions échouent fréquemment. Pour les transmissions fiables et des valeurs des délais «raisonnables», l'extension multi-copie nécessite seulement 10 copies pour atteindre quasiment la même performance que celle du flooding, particulièrement coûteux en terme de nombre de transmissions et utilisation de buffers.
Fichier principal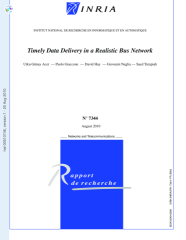 acer10inria_rr7344.pdf (4.29 Mo)
Télécharger le fichier
Origin : Files produced by the author(s)