Test of some numerical limiters for the conservative PSM scheme for 4D Drift-Kinetic simulations.
The purpose of this work is simulation of magnetised plasmas in the ITER project framework. In this context, Vlasov-Poisson like models are used to simulate core turbulence in the tokamak in a toroidal geometry. This leads to heavy simulation because a 6D dimensional problem has to be solved, 3D in space and 3D in velocity. The model is reduced to a 5D gyrokinetic model, taking advantage of the particular motion of particles due to the presence of a strong magnetic field. However, accurate schemes, parallel algorithms need to be designed to bear these simulations. This paper describes a Hermite formulation of the conservative PSM scheme which is very generic and allows to implement different semi-Lagrangian schemes. We also test and propose numerical limiters which should improve the robustness of the simulations by diminishing spurious oscillations. We only consider here the 4D drift-kinetic model which is the backbone of the 5D gyrokinetic models and relevant to build a robust and accurate numerical method.
Ce travail concerne la simulation de plasmas magnétisés dans le cadre du projet ITER. Pour cette application, des modèles de type Vlasov-Poisson sont utilisés pour simuler la turbulence à coeur dans un tokamak, en géométrie toroidale. Ces études mènent à résoudre des problèmes dans un espace à 6 dimensions, 3D en espace 3D en vitesse, qui sont très lourds à simuler en terme de ressources informatiques. Le modèle est réduit à un modèle gyrocinétique 5D en exploitant les caractéristiques de ce plasma, dont le mouvement des particules est fortement influencé par la présence d'un champ magnétique intense. Cependant, il est nécessaire de mettre au point des schémas précis et des algorithmes parallèles pour mener ces simulations. Ce rapport décrit une formulation de type Hermite du schéma conservatif PSM qui est très générique et qui permet d'implémenter différent schémas semi-Lagrangiens. Nous testons et proposons également des limiteurs numériques de pente qui doivent accroître la robustesse des simulations en réduisant les oscillations d'origine numérique. Dans ce travail, nous l'utilisons pour résoudre le modèle drift-kinetic 4D, qui est le squelette du modèle gyrocinétique 5D. Ce modèle 4D est suffisamment pertinent pour la conception d'une méthode numérique robuste et précise pour le modèle 5D.
Fichier principal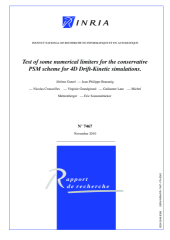 RR-7467.pdf (1.18 Mo)
Télécharger le fichier
Origin : Files produced by the author(s)