Scripting Interactive Physically-Based Motions with Relative Paths and Synchronization
This paper presents a novel approach for facilitating the use of physically basedmodels by animators. The idea is to let the user guide motion at a high level of control by giving approximate desired trajectories and synchronization constraints between the objects over time, while a simulation module computes the final motion, dealing with collision detection and response, and enhancing realism. The objects, which are either isolated or components of an articulated structure, are guided through the specification of key-position and orientations, defined in a referential that can be fixed or relative to another object. The animation sequence is scripted by specifying a graph of synchronization constraints between objects over time. During the animation, objects automatically regulate their speed in order to meet these constraints.
Cet article présente une nouvelle approche pour faciliter l'utilisation de modèles physiques par les graphistes. L'idée est de laisser l'utilisateur guider l'animation à un haut niveau de contrôle en donnant une approximation des trajectoires désirées et des contraintes de synchronisation temporelles entre les objets. Un module de simulation calcule ensuite le mouvement final, gérant les détections et réponses aux collisions, tout en améliorant le réalisme. Les objets, isolés ou composants d'une structure articul ée, sont guidés par la spécification de positions et orientations-clés, définies dans un repère fixe ou relatif à un autre objet. La séquence d'animation est définie par la spécification d'un graphe de contraintes de synchronisation entre les objets au cours du temps. Pendant l'animation, les objets régulent automatiquement leur vitesse pour satisfaire ces contraintes.
Fichier principal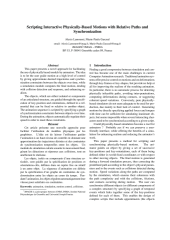 gi95.pdf (156.18 Ko)
Télécharger le fichier
Origin : Files produced by the author(s)