L'utilisation du geste dans des réunions de conception architecturale
The importance of the use, in human interaction, of other modes of expression and representation than the audible (the "verbal") has been widely recognised in the field of cognitive design research. With few exceptions, however, the graphic mode has been studied as the expression and representation modality of the visible (the "nonverbal"). The long-term goal of our research is to determine the relative contribution of each of the different semiotic systems (verbal, graphic, gestural and other modes of visible expression and representation) and their articulation in the interaction between people collaborating on a task. In this text, we focus on the use of gesture in collaborative design. Therefore, we conducted two empirical studies based on video data collected in architectural design meetings. It was based on verbal, and to a lesser extent graphic data that we developed our vision of design as the construction of representations (Visser, 2006). Our previous analyses of collaborative design led to distinguish two main families of activities, representational and organisational. In our work on the use of gestures in architectural design meetings, we found again these two types of functions. Indeed, gestures contribute both to the construction of the representation of the artefact and to the organisation of the design activities and of the interaction. The analysis presented here shows in addition that gesture does so in at least two ways: in an integrated combination with speech or independently, that is, without verbal coexpression.
L'importance de l'utilisation, dans l'interaction humaine, d'autres modalités d'expression et de représentation que l'audible (le "verbal") a été reconnue largement dans le domaine du cognitive design research. A quelques exceptions près, ce n'est toutefois que le graphique qui a fait l'objet d'études en tant que modalité d'expression et de représentation visibles (le "non verbal"). L'objectif à long terme de notre recherche est de déterminer la contribution relative de chacun des différents systèmes sémiotiques (verbal, graphique, gestuel et autres modalités d'expression et de représentation visibles) et leur articulation dans l'interaction entre des personnes dans des situations de collaboration. Dans ce texte, nous nous focalisons sur l'utilisation du geste dans la conception collaborative. Pour analyser celui-ci, nous avons conduit deux études empiriques basées sur des enregistrements vidéo de réunions de conception architecturale. C'était sur la base de données verbales et, dans une moindre mesure, graphiques, que nous avions élaboré notre approche de la conception (Visser, 2006). Nos analyses antérieures de la conception collaborative avaient conduit à y distinguer deux grandes familles d'activités, représentationnelles et organisationnelles. Dans nos travaux sur l'utilisation de gestes dans des réunions de conception architecturale, nous avons retrouvé ces deux types de fonctions. En effet, les gestes y contribuent également à la construction de la représentation de l'artefact et à l'organisation des activités de conception et de l'interaction. L'analyse présentée ici montre en plus qu'ils le font d'au moins deux manières: dans une combinaison intégrée avec la parole ou de façon autonome, c'est-à-dire sans coexpression verbale.
Fichier principal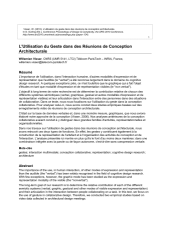 WVisser_DRS2010_HAL_V2.pdf (2.9 Mo)
Télécharger le fichier
Origin : Files produced by the author(s)