SecSIP Technical Documentation
This document provides information about the architecture of SecSip, a stateful SIP firewall. It first details how the rules are handled by the engine, how they are organized internally, and how they can be imported and exported. It then describes how packets are filtered by the engine, which uses the rules as a basis of its decision-making process. Finally, it goes over the architecture of the manager interface, describing its internals.
Ce document fournit des informations sur l'architecture de SecSip, un pare-feu SIP à conservation d'état. Il détaille dans un premier temps la gestion des règles par le moteur, leur organisation interne, et la manière dont elle peuvent être importées et exportées. Il décrit ensuite le filtrage des paquets par le moteur, qui se base sur les règles pour prendre ses décisions. Enfin, il expose l'architecture et le fonctionnement de l'interface de gestion.
Fichier principal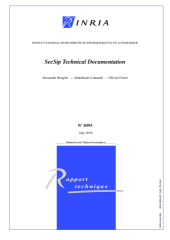 RT-0393.pdf (165.55 Ko)
Télécharger le fichier
Origin : Files produced by the author(s)