On the Flooding Overhead of Fountain Codes in Wireless Sensor Networks
This paper concentrates on the proper use of fountain codes for the transmission of sporadic data in a wireless sensor network (WSN). Fountain codes offer great perspectives for the self-organization of WSNs: they self adapt to the channel error rate without any control data. When deploying fountain codes on a WSN, two problems arise. First, the size of the data transmitted by a sensor is small in comparison to the size considered traditionally with fountain codes. The analysis of the decoding overhead for fountain codes is often done for large data. Second, the communications are done in an hop-by-hop fashion. It implies that the destination of the data can not acknowledge instantaneously its reception to the source. Therefore, the transmissions of useless packets for the destination can not be prevented. The impact of this flooding traffic is analyzed. It depends on the data size and on number of hops between the source and the destination. The context of our study is a line network, i.e. a cascade of erasure channels. The flooding traffic has been evaluated as well through realistic simulations for three different relaying strategies where packets are lost due to both small scale fading and collisions for an unslotted IEEE 802.15.4 medium access layer.
Cet article propose l'optimisation de l'usage d'un code fontaine pour une transmission sporadique de données dans les réseaux de capteur. Dans ce contexte, ces codes présentent un avantage relatif à l'auto-organisation du réseau: son taux de transmission de données est variable et s'adapte intrinsèquement à la qualité du canal radio sans qu'il n'y ait besoin de paquets de contrôle supplémentaires. Cependant, pour pouvoir utiliser les codes fontaines dans les réseaux de capteurs, il est nécessaire de prendre en compte les contraintes suivantes : premièrement, le surcoût lié au décodage n'est plus négligeable lorsque la taille des données devient petite et deuxièmement, il existe un débordement du flux des paquets codés relatif à la transmission en mode multi-sauts de l'acquittement. En effet, si l'acquittement mets plus de temps à atteindre la source relativement à la vitesse de relayage des paquets codés par la source, certains relais ainsi que la source émettent un nombre de paquets inutiles au décodage avant d'arrêter la transmission. C'est principalement le cas pour une transmission en cascade multi-sauts pour laquelle le nombre de relais est élevé. Dans cet article, nous étudions ce surcoût qui varie avec la quantité de paquets à transmettre et le nombre de sauts entre la source et le destinataire. Ce surcoût de transmission est analysé pour plusieurs stratégies de relayage, tout d'abord analytiquement puis par simulation pour un protocole Zigbee IEEE 802.15.4.
Fichier principal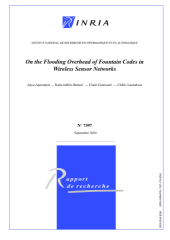 RR-7397.pdf (326.26 Ko)
Télécharger le fichier
Origin : Files produced by the author(s)