IPv6 Operation for WAVE - Wireless Access in Vehicular Environments
The IEEE WAVE protocol suite is providing communications services to applications in vehicular networks, by way of promising support for two protocol stacks: the Wave Short Message Protocol (WSMP) and IPv6. While WSMP is developed within the IEEE 1609 family of standards, the authors of this memorandum assert, that considerations for IPv6 operation for WAVE are less developed, and several issues are left unaddressed by the current IEEE 1609 specifications. This memorandum reviews these issues and analyzes the main challenges in providing proper IPv6 operation for WAVE networks.
La suite de protocoles IEEE WAVE fournit des services de communications pour les réseaux véhiculaires, en promettant le support de deux piles de protocoles: le Wave Short Message Protocol (WSMP) d'une part, et IPv6 d'autre part. Si WSMP est spécifié dans la famille de standards IEEE 1609, les auteurs du présent papier affirment que les considérations concernant IPv6 dans WAVE ne sont pas assez dévelloppées, et que par conséquent, plusieurs problèmes ne sont pas résolus. Ce papier passe en revue ces problèmes, et analyse les principaux vérrous concernant le dévelloppement de solutions appropriées à ces problèmes.
Fichier principal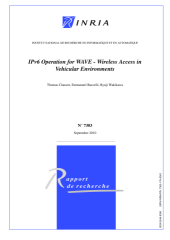 RR-7383.pdf (430.45 Ko)
Télécharger le fichier
Origin : Files produced by the author(s)