Documents Associated With Scientific Events
Year :
Non-Volatile Memory Technology Overview
Fichier principal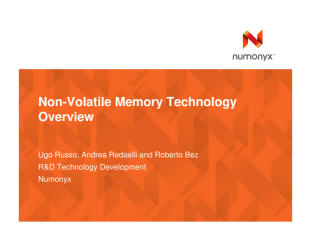 Russo.pdf (3.26 Mo)
Télécharger le fichier
Origin : Files produced by the author(s)
Ist Rennes : Connect in order to contact the contributor
https://inria.hal.science/inria-00514448
Submitted on : Thursday, September 2, 2010-2:29:10 PM
Last modification on : Monday, June 20, 2016-2:10:32 PM
Long-term archiving on: Friday, December 3, 2010-2:39:22 AM
Dates and versions
Identifiers
HAL Id :

inria-00514448 , version 1
Cite
Ugo Russo, Andrea Redaelli, Roberto Bez. Non-Volatile Memory Technology Overview. Norm Jouppi and Yuan Xie and Eren Kursun.
WTAI: Workshop on Technology Architecture Interaction
, Jun 2010, Saint-Malo, France.
⟨inria-00514448⟩