Yet Another Autoconf Proposal (YAAP) for Mobile Ad hoc NETworks
This memorandum addresses the issues of automatic address and prefix configuration of MANET routers. Specifically, the paper analyzes the differences between "classic IP networks" and MANETs, emphasizing the interface, link, topology, and addressing assumptions present in "classic IP networks". The paper presents a model for how this can be matched to the specific constraints and conditions of a MANET - i.e., how MANETs can be configured to adhere to the Internet addressing architecture. This sets the stage for development of a MANET autoconfiguration protocol, enabling automatic configuration of MANET interfaces and prefix delegation. This autoconfiguration protocol is characterized by (i) adhering strictly to the Internet addressing architecture, (ii) being able to configure both MANET interface addresses and handle prefix delegation, and (iii) being able to configure both stand-alone MANETs, as well as MANETs connected to an infrastructure providing, e.g., globally scoped addresses/prefixes for use within the MANET. The protocol is specified through timed automatons which, by way of model checking, enable verification of certain protocol properties. Furthermore, a performance study of the basic protocol, as well as of various optimization and extensions hereto, is conducted based on network simulations.
Cet article aborde les questions liées à la configuration automatique des adresses et préfixes dans les routeurs MANET. Plus spécifiquement, il analyse les différences entre les « réseaux IP classiques » et les réseaux MANET, en mettant l'accent sur l'interface, les liens et la topologie. Il étudie les hypothèses sous-jacentes dans les réseaux IP classiques et présente un modèle satisfaisant ces hypothèses dans le contexte spécifique des contraintes et conditions d'un réseau MANET, permettant par exemple de configurer les réseaux MANET de sortent qu'ils adhèrent à l'architecture d'adressage d'Internet. Les bases sont ainsi posées pour le développement d'un protocole d'auto configuration MANET, permettant la configuration automatique des interfaces MANET et la délégation automatique de préfixes. Ce protocole de configuration automatique se caractérise (i) par son adhérence stricte à l'architecture d'adressage d'Internet, (ii) par sa double capacité de configuration des interfaces MANET et de délégation de préfixes, et enfin (iii) par son aptitude à configurer aussi bien des réseaux MANETS indépendants que des réseaux MANET connectés à une infrastructure fournissant par exemple des adresses et préfixes à portée globale pour leur utilisation dans MANET. Le protocole est défini au travers d'automates temporels, qui grâce à un modèle de contrôle, permettent de vérifier certaines propriétés du protocole. En outre, une étude des performances du protocole de base, ainsi que de diverses optimisations et extensions, a été conduite à partir de simulations de réseau.
Fichier principal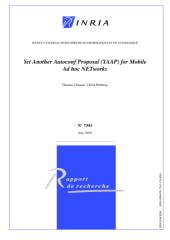 RR-7341.pdf (368.67 Ko)
Télécharger le fichier
Origin : Files produced by the author(s)