A Recurrent Solution of Ph/M/c/N-like and Ph/M/c-like Queues
We propose an efficient semi-numerical approach to compute the steady-state proba- bility distribution for the number of requests at arbitrary and at arrival time instants in Ph/M/c- like systems in which in the inter-arrival time distribution is represented by an acyclic set of memoryless phases. Our method is based on conditional probabilities and results in a simple computationally stable recurrence. It avoids the explicit manipulation of potentially large ma- trices and involves no iteration. Due to the use of conditional probabilities, it delays the onset of numerical issues related to floating-point underflow as the number of servers and/or phases increases. For generalized Coxian distributions, the computational complexity of the proposed approach grows linearly with the number of phases in the distribution.
Nous proposons une approche semi-numérique afin d'obtenir les probabilités station- naires du nombre de requêtes dans une file de type Ph/M/c aux instants arbitraires de même qu'aux instants d'arrivée. Notre méthode s'appuie sur l'utilisation des probabilités conditionnelles et débouche sur une récurrence qui s'avère numériquement stable. Cette approche simple ne comporte aucune itération. L'utilisation des probabilités conditionnelles a l'effet bénéfique de retarder l'apparition des problèmes d'arrondi liés au calcul flottant surtout pour un grand nombre de serveur et/ou phases dans la distribution du temps entre arrivées. Lorsque ces der- niers sont représentés par une loi de Cox généralisée, la complexité de calcul de notre approche croît de façon linéaire avec le nombre de phases.
Fichier principal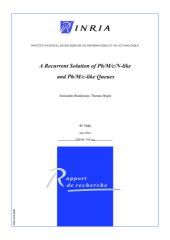 RR-7321.pdf (5.07 Mo)
Télécharger le fichier
Origin : Files produced by the author(s)