Classification de formulaires manuscrits en-ligne à l'aide de réseaux bayésiens
In this paper, we propose a method of recognizing handwritten forms online using an electronic pen-type clip. This mode of writing leads unconstrained filling uncertain form and the loss of the type of the completed form. We propose a method to identify the class of the form based on the positioning of fields filled. Our approach relies on the use of Bayesian networks to exploit, using conditional probabilities, occurrences of filling some fields depending on others. The tests were conducted on the basis of 3200 forms provided by the company Actimage. The first experiments show an average recognition of 90%.
Dans cet article, nous proposons une méthode de reconnaissance de formulaires manuscrits en-ligne à l'aide d'un stylo électronique de type clip. Ce mode d'écriture non contraint entraîne un remplissage incertain du formulaire et la perte du type du formulaire rempli. Nous proposons une méthode permettant d'identifier la classe du formulaire en se fondant sur le positionnement des champs remplis. Notre démarche repose sur l'emploi de réseaux bayésiens permettant d'exploiter, à l'aide des probabilités conditionnelles, les occurrences de remplissage des champs les uns en fonction des autres. Les tests ont été effectués sur une base de 3200 formulaires fournis par la société Actimage. Les premières expériences montrent un taux de reconnaissance de 90%.
Fichier principal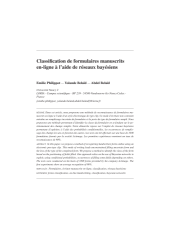 philippot-belaid-belaid.pdf (649.65 Ko)
Télécharger le fichier
Origin : Files produced by the author(s)