MPR+SP: Towards a Unified MPR-based MANET Extension of OSPF
Heterogeneous networks combining both wired and wireless components -- fixed routers as well as mobile routers -- emerge as wireless mesh networks are being deployed. Such heterogeneity is bound to become more and more present in the near future as mobile ad hoc networking becomes a reality. While it is possible to cope with heterogeneity by employing different routing protocols for the fixed / wired part and for the wireless / ad hoc part of the network, this may lead to sub-optimal performance, \eg by way of longer routing paths due to these routing protocols sharing prefixes and "connecting" the network only at distinct gateways between the two routing domains. Thus, the establishment of a single unified routing domain, and the use of a single routing protocol, for such heterogeneous networks is desired. OSPF is a natural candidate for this task, due to its wide deployment, its modularity and its similarity with the popular ad hoc routing protocol OLSR. Multiple OSPF extensions for MANETs have therefore been specified by the IETF. This memorandum introduces a novel OSPF extension for operation on ad hoc networks, MPRSP, and compares it with the existing OSPF extensions via simulations, which show that MPR+SP outperforms prior art.
Les réseaux hétérogènes combinant des parties filaires et des parties sans-fils -- des routeurs mobiles ainsi que des routeurs fixes -- sont déployés de nos jours sous forme de réseaux mesh. Dans le futur, les réseaux hétérogènes sont amenés à devenir de plus en plus présents, au fur et à mesure que les réseaux ad hoc deviendront réalité. Il est possible de gérer l'hétérogénéité de tels réseaux en utilisant plusieurs protocoles de routages à la fois, un pour la partie fixe / filaire, et un autre pour la partie mobile / sans-fil. Cependant, l'utilisation simultanée de plusieurs protocoles dans ce contexte mène souvent à des performances sous-optimales (par exemple en forçant les routes à passer par certaines passerelles). C'est pourquoi il est préférable d'utiliser un protocole de routage unifié, couvrant un réseau hétérogène dans sa globalité. OSPF est le candidat naturel pour accomplir cette tâche, dû à son usage répandu, à la modularité de son design et à sa ressemblance avec le protocole de routage ad hoc OLSR. Plusieurs extensions d'OSPF pour MANET ont donc été récemment normalisées par l'IETF. Ce rapport présente une nouvelle extension d'OSPF pour les réseaux ad hoc, nommée MPR+SP, et la compare aux extensions existantes au moyen de simulations, qui montrent que MPR+SP offre une meilleure performance que l'état de l'art.
Fichier principal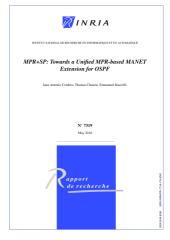 RR-7319.pdf (448.53 Ko)
Télécharger le fichier
Origin : Files produced by the author(s)