ESS for life-history traits of cooperating consumers facing cheating mutants
We consider a population of identical individuals preying on an exhaustible resource. The individuals in the population choose a strategy that defines how they use their available time over the course of their life for feeding, for reproducing (say laying eggs), or split their energy in between these two activities. We here suppose that their life lasts a full season, so that the chosen strategy results in the production of a certain number of eggs laid over the season. This number then helps define the long-run evolution of the population since the eggs constitute the basis for the population for the next season. However, in this paper, we strictly concentrate on what occurs within a season, by considering two possible strategies: the collective optimum and the uninvadable strategy. The (collective) optimal strategy involves a singular arc, which has some resource saving feature and may, on the long-term, lead to an equilibrium. However, it is susceptible to invasion by a greedy mutant which free-rides on this resource saving strategy. Therefore, the ``optimal'' strategy is not evolutionarily stable. We thus look for an evolutionarily stable strategy, using the first ESS condition (``Nash-Wardrop condition''). This yields a different singular arc and a strategy that conserves less the resource. Unfortunately, we show in a forthcoming paper that, though it is an ESS, it is not long-term (interseasonal) sustainable. This is an instance of the classical ``tragedy of the commons''. In this paper we also investigate whether the mixed strategy on the singular arcs may be interpreted in terms of population shares using pure strategies. The answer is negative.
Nous considérons une population d'individus identiques s'attaquant à une ressource épuisable. Les individus de la population doivent choisir une stratégie qui définit comment ils utilisent leur temps disponible au cours de leur vie à se nourrir, pour la reproduction (par exemple la ponte), ou en partageant leur énergie entre ces deux activités. Nous supposons ici que leur vie ne dure qu'une saison complète, de sorte que la stratégie choisie se traduit par la production d'un certain nombre d'oeufs pondus au cours de la saison. Ce nombre permet alors de définir l'évolution à long terme de la population car les oeufs constituent la base de la population pour la saison suivante. Dans ce rapport, nous nous concentrons strictement sur ce qui se produit au sein d'une saison en considérant deux stratégies possibles: l'optimum collectif et la stratégie non invasible. La stratégie (collective) optimale définit un arc singulier le long duquel la ressource est économisée; sur le long terme, cette stratégie peut conduire à un équilibre. Par contre, cettre stratégie rend la population sensible à l'invasion par un mutant glouton qui n'économiserait pas la ressource sur l'arc singulier. Par conséquent, la stratégie ``optimale'' n'est pas évolutionnairement stable. Nous allons donc rechercher une stratégie évolutionnairement stable, en utilisant la première condition d'ESS ("condition de Nash-Wardrop"). Il en résulte un autre arc singulier et une stratégie qui préserve moins la ressource. Dans cet article, nous vérifions aussi si une stratégie mixte sur un arc singulier peut être interprétée comme une représentation d'une population dont une partie se reproduit continuellement et l'autre se nourrit. La réponse est négative: la stratégie mixte ne peut représenter des parts de populations jouant des stratégies pures.
Fichier principal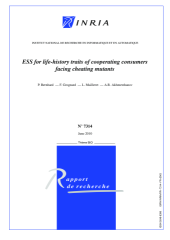 RR-7314.pdf (242.94 Ko)
Télécharger le fichier
Origin : Files produced by the author(s)