Join forces or cheat: evolutionary analysis of a consumer-resource system
In this work we study the process of mutant invasion on an example of a consumer-resource system with annual character of the behavior. Namely, individuals are active during seasons of fixed length separated by winter periods. All individuals die at the end of the season and the size of the next generation is determined by the number of offspring produced during the past season. The rate at which the consumers produce immature offspring depends on their internal energy which can be increased by feeding. The reproduction of the resource simply occurs at a constant rate. At the beginning, we consider a population of consumers maximizing their common fitness, all consumers being individuals having the same goal function and acting for the common good. We suppose that a small fraction of the consumer population may appear at the beginning of one season and start to behave as mutants in the main population. We study how such invasion occurs.
Dans ce travail nous étudions les processus évolutifs à l'oeuvre dans un système consommateurs-ressources ``saisonnier" dans lequel les consommateurs ont un compromis dynamique à faire entre le temps alloué à la recherche de nourriture et celui alloué à leur reproduction. Les individus sont actifs pendant des saisons de longueur fixe, séparées par des périodes d'hiver où seuls les immatures produits durant la saison survivent (oeufs, graines,...). La taille de la génération suivante de matures est alors déterminée par ce nombre de survivants. Dans ce rapport, nous considérons d'abord une population de consommateurs qui maximisent leur ``fitness'' commune (l'efficacité reproductive de la population entière), tous les consommateurs ayant ce même objectif; ils agissent en quelque sorte pour le bien commun. Nous supposons par la suite qu'une petite fraction de la population des consommateurs peut apparaître au début d'une saison et choisir une stratégie différente de celle de la population principale; nous appellerons ces individus déviants ``mutants". Nous étudions en détails la stratégie mise en oeuvre par ces mutants et analysons pour finir leur capacité ou non à supplanter la population résidente.
Fichier principal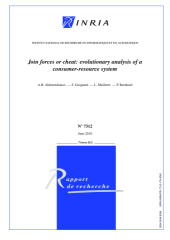 RR-7312.pdf (545.04 Ko)
Télécharger le fichier
Origin : Files produced by the author(s)