Délégation d'agents pour la protection étendue des données personnelles
The most difficult problem in the domain of privacy is the one of extended data protection, which consists in ensuring that an information is not processed in an unauthorized fashion by a distant agent. We analyze the existing works trying to address this issue with respect to the level of trust they can bring to users, the ultimate level being represented by the strong guaranteees provided by Trusted Computing techniques. This technology being paradoxally dangerous for the users' liberties, we suggest three criteria for evaluating whether a TC-based architecture is fruitful or threatening to the user. On this basis, we propose a new TC-based architecture, ensuring both a high level of trust and an absence of risk for the user.
Le problème le plus délicat concernant la protection de la vie privée est la protection étendue des données, qui consiste à s'assurer qu'une information n'est pas utilisée d'une façon non autorisée par un agent distant. Nous analysons les travaux existants tentant de résoudre ce problème en fonction du niveau de confiance qu'ils permettent d'apporter aux utilisateurs, le niveau le plus élevé correspondant aux garanties fortes fournies par les méthodes du Trusted Computing [18]. Cette technologie étant paradoxalement dangereuse pour les libertés des utilisateurs, nous suggérons trois critères pour évaluer dans quelle mesure une architecture de Trusted Computing est profitable ou dangereuse pour un utilisateur. Sur cette base, nous proposons une nouvelle architecture de ce type (utilisant la délégation des processus et des données à des agents autonomes), assurant à la fois un haut niveau de confiance et une absence de risque pour l'utilisateur.
Fichier principal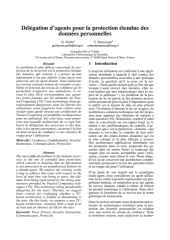 jfsma09.pdf (411.17 Ko)
Télécharger le fichier
Origin : Files produced by the author(s)