Featured-Based Vector Simulation of Water Waves
We present a feature-based vector simulation approach for simulating local wave phenomena which often appear in streams. By using this approach, we simulate the wave pattern in front of an obstacle in a flow. Based on laws in hydrodynamics, we present an efficient geometric construction method which can generate and animate the vector features of the target wave phenomenon. From the vector information, we are able to build feature aligned mesh for capturing the high-resolution details of the local waves. The results show that our approach is suitable for real-time applications. The approach also allows users to intuitively control the animation.
Nous proposons une approche basée sur la simulation des structures apparentes sous forme vectorielle pour simuler les divers phnomnes d'ondes qui apparaissent à la surface des ruisseaux et rivières. En particulier, nous simulons à l'aide de cette approche le motif de vagues à l'amont des obstacles dans le flot. Pour celà, nous proposons une construction géométrique efficace basée sur les lois de l'hydrodynamique, qui permet de générer et d'animer sous forme vectorielle les structures apparentes ciblées. A partir de ces informations vectorielles, nous générons un maillage local aligné sur chaque structure pour capturer efficacement à haute résolution les détails des ondes locales. Nos résultats montrent que la méthode est bien adaptée aux applications temps-réel. De plus, l'approche permet un contrôle intuitif de paramètres par un utilisateur.
Fichier principal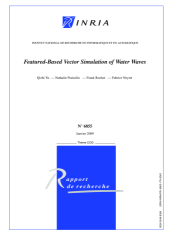 RR-6855.pdf (4.89 Mo)
Télécharger le fichier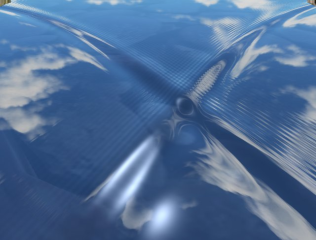 id-vecsim.jpg (40.48 Ko)
Télécharger le fichier
waves_xvid.avi (16.08 Mo)
Télécharger le fichier
Origin : Files produced by the author(s)