A Practical Self-Shadowing Algorithm for Interactive Hair Animation
This paper presents a new fast and accurate self-shadowing algorithm for animated hair. Our method is based on a 3D light-oriented density map, a novel structure that combines an optimized volumetric representation of hair with a light-oriented partition of space. Using this 3D map, accurate hair self-shadowing can be interactively processed (several frames per second for a full hairstyle) on a standard CPU. Beyond the fact that our application is independent of any graphics hardware (and thus portable), it can easily be parallelized for better performance. Our method is especially adapted to render animated hair since there is no geometry-based precomputation and since the density map can be used to optimize hair self-collisions. The approach has been validated on a dance motion sequence, for various hairstyles.
Ce papier présente une nouvelle approche pour traiter l'auto-ombrage dans les chevelures de manière précise et efficace. Notre méthode se base sur une carte 3D de densité, orientée selon la direction de la lumière; cette structure tire parti à la fois d'une représentation volumique optimisée pour la chevelure, et d'une partition de l'espace orientée selon la lumière. L'utilisation de cette carte de densité nous permet de calculer interactivement l'auto-ombrage au sein d'une chevelure (quelques images par seconde pour une chevelure complète) sur un CPU standard. Independante du matériel graphique (et donc portable), notre application peut également être parallélisée facilement pour améliorer les performances. En outre, la méthode est particulièrement adaptée au rendu de cheveux animés car elle ne requiert aucun précalcul géométrique, de plus la carte de densité s'avère très utile pour optimiser le traitement des collisions entre cheveux. Nous avons validé notre approche sur un mouvement de danse, pour divers styles de coiffures.
Fichier principal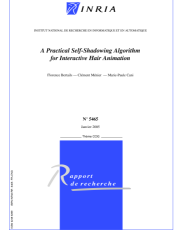 RR-5465.pdf (390.02 Ko)
Télécharger le fichier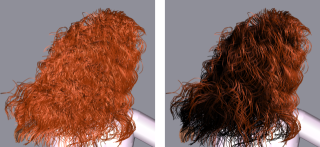 aCurlsShadowCompare.png (521.37 Ko)
Télécharger le fichier
BertailsRenderingGI05.mpg (42.47 Mo)
Télécharger le fichier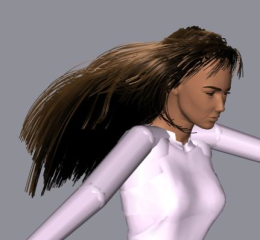 aHairShadows.jpg (18 Ko)
Télécharger le fichier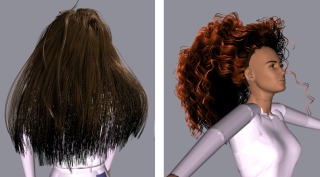 bSmoothAndCurly.png (346.49 Ko)
Télécharger le fichier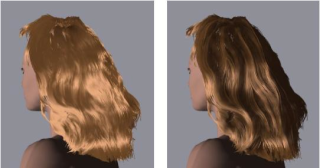 cLaure.jpg (17.83 Ko)
Télécharger le fichier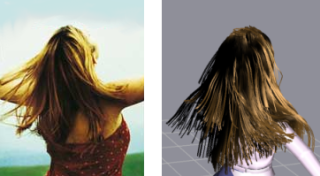 dComparison.png (87.69 Ko)
Télécharger le fichier