Assessment of nivolumab in HIV-Infected patients with advanced non-small cell lung cancer after prior chemotherapy. The IFCT-1602 CHIVA2 phase 2 clinical trial
Importance: Therapies targeting immune checkpoints, such as the programmed cell death 1 (PD-1) receptor, have become the standard-of-care for patients with non-small cell lung cancer (NSCLC), but people living with HIV (PLWH) were excluded from these studies. Objective: To evaluate the efficacy and tolerability of nivolumab in PLWH with advanced NSCLC. Design: The CHIVA2 study was a nonrandomized, open-label, phase 2 clinical trial in PLWH with previously treated advanced NSCLC. Setting: National multicenter prospective study. Participants: patients had viral load of <200 copies/mL, regardless of their CD4+ T-cell count. Intervention: Nivolumab was administered in second or third line, as monotherapy intravenously at 3 mg/kg every 2 weeks, until disease progression or limiting toxicity. Main outcomes and measures: The primary endpoint was disease control rate, evaluated using the Response Evaluation Criteria in Solid Tumors, version 1.1. Adverse events were graded using the National Cancer Institute Common Terminology Criteria for Adverse Events, version 4.0. Results: Sixteen patients with advanced NSCLC were enrolled: 14 (88 %) were men, median age was 58 years (range: 44-71), and all were smokers. The median duration of nivolumab treatment was 3.5 months (range: 0.5-26.5). The median follow-up was 23.6 months. Disease control rate was 62.5 % for 15 evaluable patients at 8 weeks (2 with partial response, 8 with stable disease, and 5 with disease progression). Twelve (75 %) patients had treatment-related adverse events, which were mild or moderate, except for one patient experiencing severe pruritus, onycholysis, and pemphigoid. There were no opportunistic infections or unexpected immune-related events. HIV viral load was stable during treatment. An increase in proliferating CD8+ and CD4+ T-cells was observed after 3 nivolumab cycles in a subgroup of 9 patients. Conclusions and relevance: Second/third-line nivolumab treatment was well-tolerated and beneficial in PLWH with NSCLC. Future trials should investigate immune checkpoint inhibitors in first-line settings. Trial registration: EudraCT.ema.europa.eu registration number: 2016-003796-22.
EudraCT.ema.europa.eu registration number: 2016-003796-22.
Fichier principal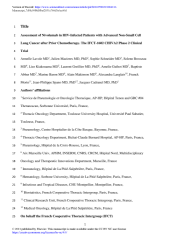 S0169500221004116.pdf (240.31 Ko)
Télécharger le fichier
Origin : Files produced by the author(s)