Tactful opportunistic forwarding: What human routines and cooperation can improve?
Opportunistic D2D forwarding algorithms have leveraged human mobility characteristics to improve cost-effective content delivery. Most previous proposals focused on traditional or simplistic human-centered metrics to improve performance in scenarios such as cellular data offloading. Still, there is a need to approximate algorithm's metrics to inherent in-depth aspects of human mobility hidden into real datasets while leveraging more realistic scenarios interesting to mobile operators. This work proposes TOOTS, a novel human-aware opportunistic D2D forwarding strategy for cost-effective content delivery on cellular networks. TOOTS features a dissemination policy and a forwarding algorithm that leverages wireless encounters patterns, temporal, spatial, geographic, and direction awareness to improve cost-effectiveness delivery. These characteristics are extracted from NCCU and GRM datasets. We compare TOOTS with the most popular state-of-art social-aware algorithm, Bubble Rap, combined with three dissemination policies. Results from TOOTS show increased performance in terms of delivery rate, delivery latency, and overhead.
Les algorithmes de transfert opportunistes D2D ont exploité les caractéristiques de la mobilité humaine pour améliorer la livraison de contenu rentable. La plupart des propositions précédentes se sont concentrées sur des mesures traditionnelles ou simplistes centrées sur l'homme pour améliorer les performances dans des scénarios tels que le déchargement de données cellulaires. Néanmoins, il est nécessaire de rapprocher les métriques de l'algorithme des aspects inhérents en profondeur de la mobilité humaine cachés dans des ensembles de données réels tout en tirant parti de scénarios plus réalistes intéressants pour les opérateurs mobiles. Ce travail propose TOOTS, une nouvelle stratégie de transmission D2D opportuniste consciente de l'homme pour la livraison de contenu rentable sur les réseaux cellulaires. TOOTS propose une politique de diffusion et un algorithme de transmission qui tire parti des modèles de rencontres sans fil, de la sensibilité temporelle, spatiale, géographique et de la direction pour améliorer le rapport coût-efficacité. Ces caractéristiques sont extraites des ensembles de données NCCU et GRM. Nous comparons TOOTS avec l'algorithme social de pointe le plus populaire, Bubble Rap, combiné à trois politiques de diffusion. Les résultats de TOOTS montrent des performances accrues en termes de taux de livraison, de latence de livraison et de frais généraux.
Fichier principal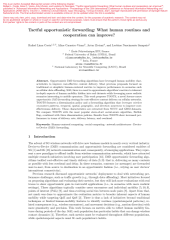 AINA-HAL-v1.pdf (984.61 Ko)
Télécharger le fichier
Origin : Files produced by the author(s)