Edge Computing Resource Management System: Two Years Later!
Considérations sur la conception d'un gestionnaire de resources, deux ans apres la premiere analyse.
Resource management systems are key elements of distributed infrastructures. At HotEdge'18, we alerted our community of the importance of delivering such a system to favor the advent of the edge computing paradigm. While new initiatives have been proposed, they are far from offering the expected features to administrate and use geo-distributed infrastructures such as the edge ones. However, there is an opportunity to move forward by proposing a break through approach in the design of resource management systems for the edge. We give the premises of such an approach by illustrating how multiple instances of a Virtual Infrastructure Manager can collaborate with each other while mitigating code efforts. Our proposal leverages service concepts, dynamic composition as well as programming software abstractions. Beyond the development of a resource management system for edge infrastructures, our proposa lmay lead to a new way of distributing applications where intermittent network is thenorm.
Les systèmes de gestion de ressources sont des éléments clés de la gestion des infrastructures distribuées. Pour HotEdge'18, nous avons alerté notre communauté de l'importance de mettre en place un tel système pour favoriser l'avènement du paradigme de l'informatique en périphérie. Si de nouvelles initiatives ont été proposées, elles sont loin d'offrir les fonctionnalités attendues pour administrer et utiliser les infrastructures d'informatique en périphérie. Toutefois, il est possible d'aller de l'avant en proposant une approcher évolutionnaire dans la conception de systèmes de gestion des ressources de périphérie. Nous donnons les prémisses d'une telle approche en illustrant comment plusieurs instances d'un gestionnaire d'infrastructure virtuelle peuvent collaborer entre elles tout en atténuant les efforts décodage.Notre proposition s'appuie sur des concepts de services, de composition dynamique ainsi que des abstractions de programmation. Au-delà du développement d'un système de gestion des ressources pour des infrastructures en périphérie, notre proposition peut conduire à une nouvelle façon de distribuer les applications où l'intermittence des réseaux est la norme.
Fichier principal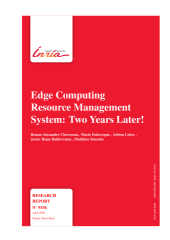 RR-9336.pdf (692.79 Ko)
Télécharger le fichier
Origin : Files produced by the author(s)