Does disabling Wi-Fi prevent my smartphone from sending Wi-Fi frames?
Est-ce que la désactivation du Wi-Fi empêche mon smartphone d'émettre des trames Wi-Fi?
No. For Android, we show that another option, called "Always allow scanning", when activated, makes a device send Wi-Fi frames which can be used to track this device, even if the Wi-Fi switch is off. This option is not clearly described in all Android versions, and sometimes very hard to find. Besides, the Google Maps application prompts the user to activate this option. Similarly, for iOS 11, the Wi-Fi switch in the control center does not prevent Wi-Fi frames from being emitted by some services.
Non. Pour Android, nous montrons qu'une autre option, appelée "Always allow scanning", permet à l'appareil d'émettre des trames même si le Wi-Fi est désactivé, exposant ainsi l'utilisateur au traçage Wi-Fi. Cette option n'est pas clairement décrite dans l'ensemble des versions d'Android et est même parfois très difficile à désactiver. De plus, l'application Google Maps demande à l'utilisateur d'activer cette option. Pour iOS 11, l'option Wi-Fi du centre de contrôle n'empêche pas certaines applications d'émettre des trames Wi-Fi.
Fichier principal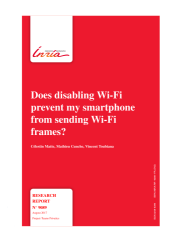 Update_Wi_Fi_off_and_yet_probing (1).pdf (2.4 Mo)
Télécharger le fichier
Origin : Files produced by the author(s)